Starring Role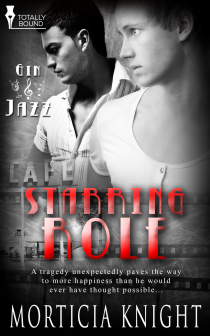 Gin & Jazz series book #4
Morticia Knight
Totally Bound Publishing
02-07-2014
Novel, 62716 words
Heat level, Burning!
Alone once again, Jack believes that he will never have lasting love. But a tragedy unexpectedly paves the way to more happiness than he would ever have thought possible.
No longer held prisoner by Roman Pasquale's obsessive love, Jack struggles with being truly alone for the first time in his life. The only thing he is certain of is his desire to get away from Hollywood as soon as possible. But first, he has to make sure that his loyal driver Juan is provided for, and understands that the two of them can never be together. Then, once he finishes his latest film he will finally be free of the town of broken dreams.
Right as Jack feels that his future is looking brighter, a terrible tragedy occurs. But out of his despair a new hope is born. Jack is given a second chance—one he never would have thought possible. As Jack's blissful new life unfolds with his lover by his side, an unexpected visitor from the past threatens his new-found peace.
It's time for Jack to make his final choice.
Reader Advisory: This book contains BDSM, reference to drug use, and a scene of violence.
Publisher's Note: This book is best read in sequence as part of a series.
Jack has always had the nagging thought in the back of his mind that he would end up alone. His first love, Nick, abandoned him long ago leaving him alone and helpless in Hollywood with nothing but broken dreams of the life he wanted to share with Nick. The suave and slightly older actor, Roman Pasquale, quickly swooped in and showed Jack that Nick wasn't his only option. But Roman's love became volatile and unpredictable, so Jack and his driver fled leaving both Jack and Roman broken hearted.

Jack is learning that the shield of protection Roman hid him behind was a façade, he has more friends and allies than he thought. The head of the studio, his driver, an actor on his latest film that previously made a pass at him, and of course dear Trixie. But Trixie herself has gone and gotten herself mixed up with a controlling and dark man. A chance meeting for lunch at a local dive brings Jack one step closer to a future he didn't know he had. He announces his retirement from acting, gets Juan set up to drive for the studio head and buys a building to start a restaurant on the beach with some friends.

But just when it looks like life is looking up for our young Jack, tragedy strikes and the ground falls out from under him. Through it all Juan and Vincent are right by his side, helping him stay grounded. And then past comes full circle and meets in the present. Is it possible that Jack will finally have the one thing he's always wanted? His happily ever after with a man too love, that loves him back without trying to control him? I'll never tell!

There is a little bit more action and a slightly darker undertone in this installment of the series. But what an outstanding sequel to book three! Jack has grown consistently throughout these books from a shy, naïve introvert into a more confident, mature and capable adult. He had to learn the hard way that love with strings attached is not always a good thing. Even though Roman truly loved him in his own way, it wasn't the way Jack needed to be loved. So who will love Jack the way he wants to be loved? Go grab your copy of Starring Role now to find out!!!
~ *I received a copy of this book in exchange for an honest review for MM Good Book Reviews*
Again, this is a series that should be read in order to fully appreciate and understand the story line, and characters.
a Rafflecopter giveaway