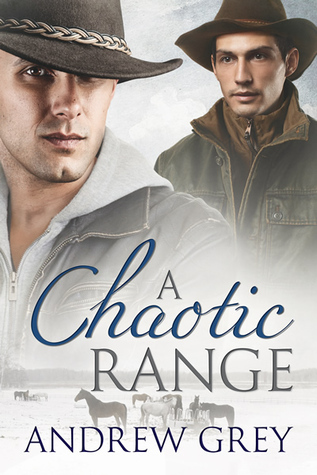 Most of the time ranchhand David rescues stray cattle, but this time he and his fellow cowboys Wally and Haven save a stranded motorist. David is surprised to find his former high school classmate nearly frozen in his car. After learning that Brian Applewright's boss fired him from his ranch for being gay, they invite him back to theirs to take a job.

David and Brian moved in different social circles at school, but working together brings them closer. However, David has a rocky history on the ranch. The foreman is his ex, and he only recently returned after a heartbreakingly unsuccessful attempt to find greener pastures. He can't risk his heart getting close to anyone.

But on a ranch, nature has a way of forcing an issue. When a snowstorm threatens, David and Brian head out to mend a fence and round up some stray cattle. David gets injured, and they must survive in the snow, cold, and wind. It might be the start of a relationship… or the end of their lives.
***** 5 Star review *****
Brian Applewright is searching for a home, a safe place where he can just be himself without fear of persecution when he winds up stranded in a ditch in the middle of a horrible snow storm. When the dust settles Brian finds himself on a Ranch surrounded by people like him, and one very familiar face. Brian remembers David from school even if they weren't friends, even back then Brian wouldn't act on his attraction to David.

David hasn't made the wisest decisions as of late, turning away from his long term boyfriend Mario when the two drifted apart. Neither one of them ever really faced up to their own faults where as the demise of their relationship was concerned, but with Brian in the picture now, David feels like he needs to face his past and own his mistakes before they permanently damage the future.

Snow storms, frost bite, broken ankles and angry ex boyfriends turn out to be the least of their worries. The biggest obstacle Brian and David will have to overcome is their equally large and wounded pride. Brian fears getting close to anyone, every time he does it only brings him heartache, and being gay has only brought chaos into his life. David has yet to accept his own part in his ill fated relationship with the Ranch's foreman, and his trust issues threaten the still fragile relationship with Brian when David chooses to believe a lie. Will their mutual inability to let go of the past destroy their chance at a future?

I was drawn into this story from the start in the mind of a man that was so beat down, he was ready to lie down and die. Only to be rescued and shown that not everyone is hateful and vindictive, there are people out there that care and will help without any expectations. While most of this story is told from Brian's point of view, starting in his car stuck in the snow storm, occasionally you get to take a ride with David. It was definitely a treat to see what each man was thinking, then getting to see how they perceived each other as well. David is sort of broken after what he has been through, scared to dare to hope for happiness. And then he gets a glimpse of it only to feel like the rug is being pulled out from under his feet, again, it was almost heart breaking.

And while I wanted to hate David after his story line in the previous books, watching him struggle with the decisions he'd made and then coming to terms with things made me warm up to him a bit. Then he went all out to convince Brian his feelings were true and sincere, even sharing with him how he really saw him in high school, so he quickly went from someone I disliked to someone I loved and was rooting for by the end. That is a testament to Grey's writing prowess, that he took a character he initially wrote as a bad guy and literally transformed him with his words and thoughts.

Definitely a must read for Cowboy romance junkie fans, but there is a story here that I think any fans of the M/M genre will enjoy. I really liked the sexier edge to this story as well. Brian and David share an obvious chemistry that is fueled by passion and emotions, and it was conveyed well in the story. This one will probably be permanently qued on my kindle so I can go back and read it over and over, whenever I want!
Series titles/order
Grab your copy of A Chaotic Range, or copies of all the books in this series now from
Making the world sexier one reader at a time.
Andrew Grey is an author of contemporary gay romance.
Friend, follow, or email Andrew:
NEW! Sign up for Andrew's
newsletter
for info on new releases, events, and more!
{GRL 2014 myself, Andrew Grey and his husband Dominic}
a Rafflecopter giveaway